Two weeks seemed to be a long time when our students went to Erasmus to Lisbon on June 8th. Meanwhile, time went by extremely fast and today was the time to leave Portugal. On the way back home students admired Lisbon by night. We ate breakfast at Munich airport and dinner in Cracow. During our trip students had time to talk with eachother and share all memories they made. There was also some time to evaluate the project. Tired but happy, richer in experience, students are awaiting next adventures in a new school year.
We spent our last day in Portugal visiting Sintra, a charming town situated within the cooling hills of the Serra de Sintra. Quinta da Regaleira was worth climbing. The property consists of a Romantic palace and chapel, and a luxurious park that features lakes, grottoes, wells, benches and fountains. While walking, students also had a chance to hand out the flyers converted to QR codes. People reactions were really good, they gladly talked with our students about ecology. On a way back we took the last walk across the famous Avenida de Liberdqde. 
In the evening we started getting ready to go back to Poland. 
What can we say about the last two weeks? It was an intense and exciting time. Portugal is a beautiful country, and Lisbon is a city worth visiting. We met lots of people and saw interesting places. Students learnt about some ecological solutions that may help solve some environmental problems. They practiced English and explored new culture. They met Portuguese teens and could exchange opinions on ecology with people from the other countries. Experience like this will make young people much more open-minded and welcoming towards other people. We will remember this trip for a long time.
In a few days we'll be in Poland so today was a good day for shopping! We spent Sunday on walking around the city in search of souvenirs for our families and friends. In the afternoon students took part in an improvisation dance classes in Yoga Lab Lisboa. It was a truly relaxing experience. 
We finished this day working on our ecology project. Students prepared some slogans to raise ecological awareness, and they created Tiktoks to share them.
Nobody needs to be told that movement is healthy. Saturday was all about activity. We spent this day on the Carcavelos beach practicing surfing. It was challenging but satisfying! We could tried our hand on a surfing board, and after that we enjoyed the weather at the beach. In the evening we were practicing singing our song about ecology issue that was written by teachers and students.
Today our students visited the Escola Basica 2,3 D Francisco Manuel de Melo school. We could see the classes and school gym. The teacher told us about the school system in Portugal, he explained the lesson plan and answered all of the kids' questions. After the visit we met with some students to do sport one more time. This time students practiced games like tennis, volleyball, basketball and football. They spent also some time on getting to know eachother in speaking activities with Portuguese friends. In the late afternoon students prepared presentation on our ecological project in which we showed photos of recycled art made of wasted materials.
We spent another day of our trip in Oceanário de Lisboa, which located in the Parque das Nações and is the largest indoor aquarium in Europe. We saw the main tank, and four additional habitats which recreate the seas of the Atlantic, Tropical Indian reefs, Pacific Ocean and Antarctic. Students were amazed by all the sea animals like sharks or sea dragons. Next, we were able to enjoy some art made from recycled wasted that were extracted from the ocean. At the end of the day we took a long walk along the Tag River where we saw one of the longest bridge in Europe – Vasco da Gama bridge.
Wednesday was a very sporty day. Today we met students from Escola Profissional CEFAD and we played different team games with them. Our students enjoyed all the activities prepared by they older Portuguese friends. Some of the students from the local school are thinking of becoming teachers in the future! During the time we spent together students were practicing their communication and social skills. It was a very nice and active day for our kids.
Tuesday was mostly about sport and health. We started the day with a walk near the river. We visited Belém Tower- a 16th-century fortification located in Lisbon that served as a starting point for Portuguese explorers and as a ceremonial gateway to Lisbon. We saw the Padrão dos Descobrimentos-Monument of the Discoveries. It is located along the river where ships departed to explore and trade with India and the Orient, the monument celebrates the Portuguese Age of Discovery during the 15th and 16th centuries. After the sightseeing we enjoyed our healthly lunch in the park, and than students had a foodball practice with PE teacher and foodball coach in Os Belenenses foodball club. Although the day was very active, students still had enough energy to dance and sing at the party.
We spent the fifth day of the trip enjoying the weather and nature. We spent some time at the beach near the Tag River, cooling down in the water. Students were playing and having fun there. After lunch we visited one of many beautiful parks near our hostel- an enchanting garden in the center of the city. Guerra Junqueiro Garden has got many old trees and interesting plants.  It is really a calming spot in the busy city. 
In the evening students were working on their project of creating flayers to encourage people to take care of green areas in the city .
Today in Lisbon, people are celebrating Saint Antonio, having fun in the open air. Streets and parks are full of smiled people. Our group have started the day after having a morning walk in the city. After lunch we continued having team games or siesta in the shade of one of many parks in the city. During our stay in the park,we were discussing ecology issues. Students prepared manadala symbolising our main project idea of "going green". During the walk ,students were taking pictures of green areas in urban space. After the hot day,spend outside, youth still was having fun in the nearest playground. Finally in the late evening , we saw parades of singing and celebrating  people.
Sunday in Lisboa: We saw parades to celebrate Santo Antonio Festival.
The third day of our trip in Lisabon – it was another hot and sunny day. We met Lucia after breakfast and we took the underground to Praća do Comerció. We enjoyed the beautiful view and cold water of river Tag. Next we took a bus to Raiz Vertical Farm, a place where Lucia and another passionate about ecology people work. There,students took part in an ecological workshop. They learnt about ecological farming and they could plant their own organic basil. Our students were really courious, they asked mamy questions, they wanted to know how innovative farming will make a difference. Vertical farming is an innovative solutions to planting food. It's the alternative way of growing vegetables and fruit without using soil and pesticides. Students learn how the process looks like and what makes it healthier and cheeper than the traditional farming.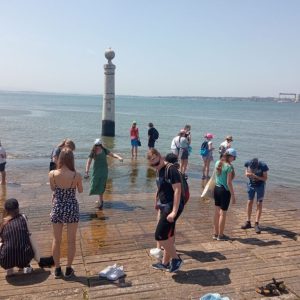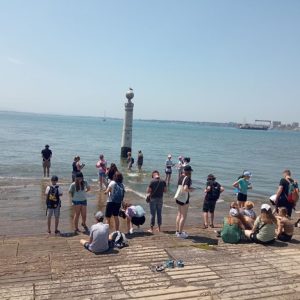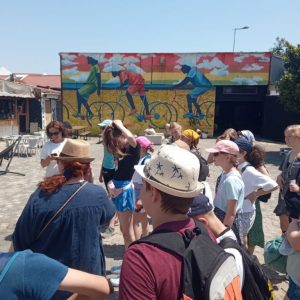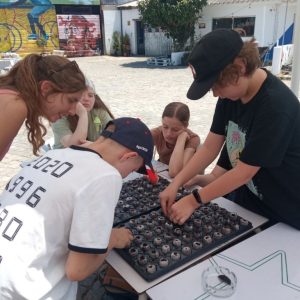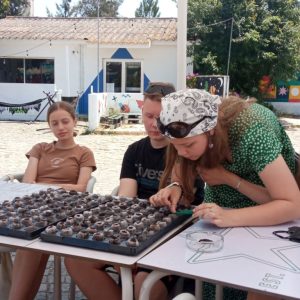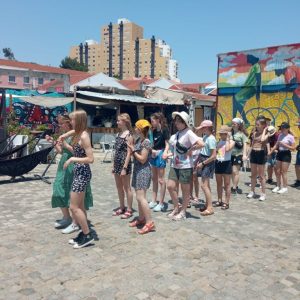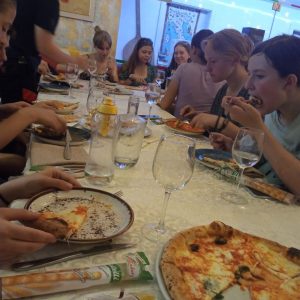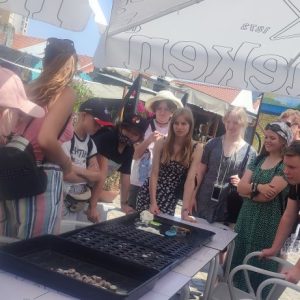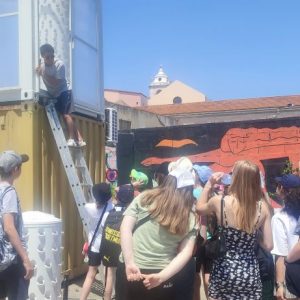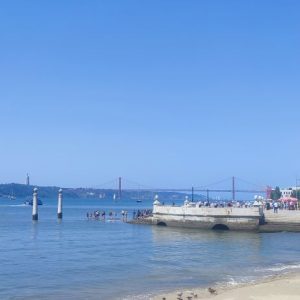 1st day of our trip. We are tired but really happy. The weather is perfect, Lisbon has welcomed us with sun. We started the day with delicious breakfast that was followed by group work. Students assignment of the day was to prepare questions about ecology in Portugal. After lunch our group took a walk around Lisbon. During the sightseeing students conducted short interviews in English. The task was to find out what do Portuguese think of ecology in their country. The next step is to prepare short summarizing film to show the results of the assignment.
Air trip to the capital of Portugal-Lisbon.
Our students improve their German in Munich and English on their way to Lisbon.
We wish you an exchange!